Ceramic clay mill grinder
Clay mill
finished product fineness
: 325 mesh ~ 3000mesh.
Scope of application of the clay mill
:
Clay grinding mill
is mainly applied to non-inflammable, non-explosive and brittle materials with Mohs hardness under seven, such as calcite, chalk, limestone, dolomite, carbon black, bentonite, kaolin, talc, mica, magnesite, illite,
pyrophyllite , roseite, sea-foam, attapulgite , rectorite, diatomite, barite, g

ypsum, alunite, graphite, fluorite, rock phosphate, kalium ore, pumice etc. totally more than 100 kinds of materials.
Finished powder products are in the 325meshs -3000meshs, and yield can be up to 0.7-7.5 tons per hour. There are four types of Shanghai Clirik HGM series manufacture grinding mill, they are HGM8021, HGM9024, HGM10027, and HGM10036.
Ceramic clay mill grinder (industrial grinding machine) mainly consist of hammer crusher , micro powder main unit, Frequency conversion classifier, powder collector, pulse dust cleaner, high pressure positive blower, air compressor, muffler, electrical apparatus control system, sound-proof room, crusher, bucket elevator, storage hopper, and vibrating feeder.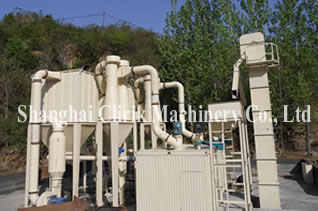 Features of Clay grinding mill
Under the same finished final size and the same motor power, the capacity of micro powder grinding mill is twice as much as jet mill, mixing grinder and ball mill.
2. Long lifecycle of spare parts
The ring and roller are forged by special material with high utilization. Under the same grinding material and finish special size, the lifecycle of spare parts is about one year, which is 2-3times longer than impact mill or turbo mill. Furthermore, the lifetime can reach 2-5 years for grinding calcite carbonate.
3. High safety and reliability
As no rolling bearings or screws in grinding cavity, there are no problems caused by bolts shedding or rapid wear of bearings and seal components.
4. High fineness and flexible adjustment
The final fineness of the grinding materials can be adjusted between 325 meshes and 3000 meshes, and the product fineness can reach D97
≦
5um.
The application of pulse deduster and muffler greatly alleviates dust pollution and noise.
Should you have any questions, please do not hesitate to contact me.
Contact person:Cherry.Zhao
E-mail: info@clirik.com;clirik_grinder@126.com
Website: http://www.grinding-equip.com; http://www.mill-grind.com; http://www.saico.net.
Welcome to Shanghai Clirik Company.If you want to more information about our products, Please online chat or give us the message, we will reply as soon as possible.