PC Series European Coarse Powder Grinding Mill
Product overview of PC series European coarse powder grinding mill
PC series European coarse powder grinding mill is engaging in crushing various rocks and stones(such as Limestone, calcite, barite, dolomite, potassium feldspar, marble, talcum, gypsum, kaolin, bentonite, medical stone, rock phosphate, manganese ore, quartz, active carbon,glass ect) with comprehensive strength not higher than 320 MPa into coarse powder and small particles, it is widely used in metallurgy, mining, chemical, cement, coal, sand-making, coal gangue, construction, refractory materials and ceramic industries.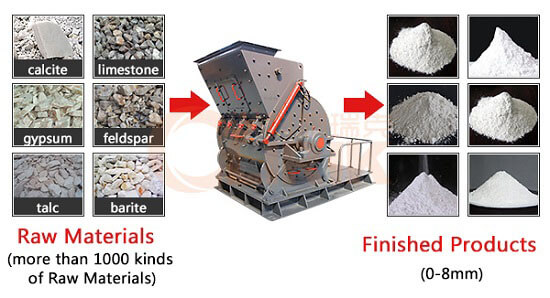 Working principle of PC series European coarse powder grinding mill
PC series European coarse powder grinding mill components:
PC series European coarse powder grinding mill mainly consists of frame, rotor, support iron and grate bars. The frame is divided into two parts: the upper part and the lower part, which are welded by steel plates after being cut. Liners made of high manganese steels within the frame can be replaced after being worn out. The rotors consist of turn plates, pin shafts, and hammers which are grouped regularly in the main shaft. The main unit drives the main shaft through the motor and triangle belts, which in turn, rotates the rollers.
PC series European coarse powder grinding mill workflow:
Large materials entering the crusher through the feed inlet are firstly crushed by the high-speed hammers, and then thrown fiercely to the support iron for further crushing. Qualified materials crushed will be screened out and exit from the gap of the grate bars while the unqualified will be left in the crushing cavity to be further hammered and ground until reach the standard size. The size of the final product can be adjusted by changing the grate bars. The gap between the rotors and the grate bars can also be adjusted according to different requirements. To avoid the plugging of the crusher, the proportion of water for the crushing materials is no more than 20%.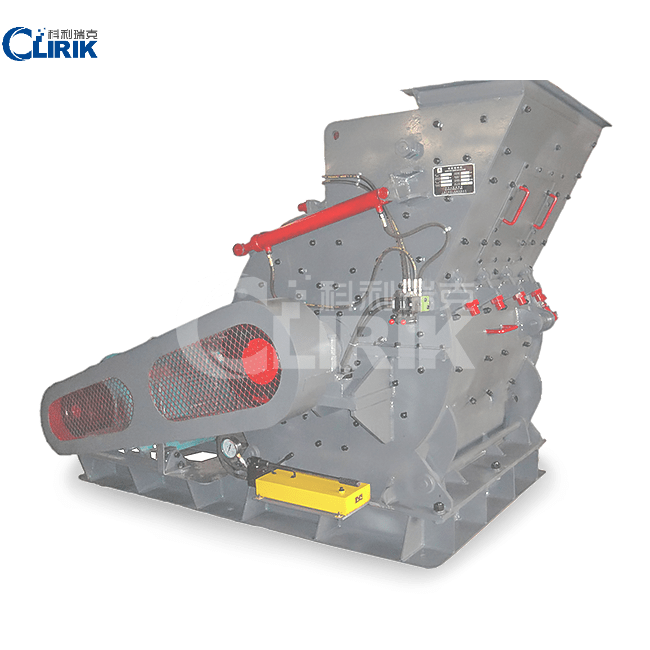 Product advantage of PC series European coarse powder grinding mill
1. Superior reliability
The gypsum powder European coarse powder grinding mill uses world-class manufacturing technology, the selection of high-end production materials, such as: movable jaw assembly is made of high-quality steel castings, heavy eccentric shaft is processed by forging billet, so that the equipment has extraordinary reliability, durable.
2. Higher intensity
Using finite element analysis technology, the whole cast steel bearing seat is guaranteed to be fully matched with the frame, greatly enhancing the radial strength of the bearing seat, so that the equipment has higher strength.
3. Safe and quick adjustment
The crushing chamber adopts the symmetrical "V" shape structure, and the discharge port adopts the wedge adjusting device, which makes the adjustment easier, safe and fast.
4. More carrying capacity
Larger and more durable eccentric shaft bearings and toothed guard plates enable the equipment to have stronger bearing capacity, higher output and longer service life.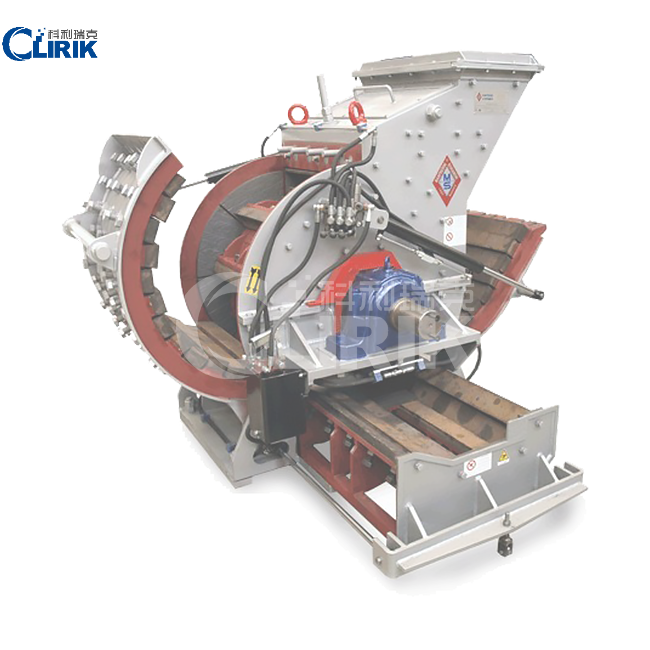 PC series European coarse powder grinding mill
Finished Size: 80-300 mesh
Max feeding size: 80mm
Processing ability: 10-100t/h
MQQ: 1 Set
Price: 999-29999 $
Range of application: Barite, quartz, feldspar, mica, calcite, talc, apatite, gypsum, fluorite, limestone, dolomite, diatomite, ceramic soil, clay, marble, granite, fly ash, kaolin, calcium carbonate, slag, bauxite, glass, etc.
Operation process and maintenance of PC series European coarse powder grinding mill
The use and maintenance of PC series European powder grinding mill is an important link to extend its service life.
Operation process
PC series European powder grinding mill in operation must be in accordance with the operation guide to start and shut down the operation, the use of the process to pay attention to the machine is abnormal, in the PC series European coarse mill in any part of the abnormal noise, or the sudden increase in load, should immediately stop the check and troubleshoot. Otherwise, if the starting current is too large when starting the mill again, it will cause difficulty in starting and even burn out the motor.
Maintenance
Maintenance of equipment generally includes cleaning equipment, checking fastening screws, maintaining good lubrication, adjusting mechanical parts and other contents.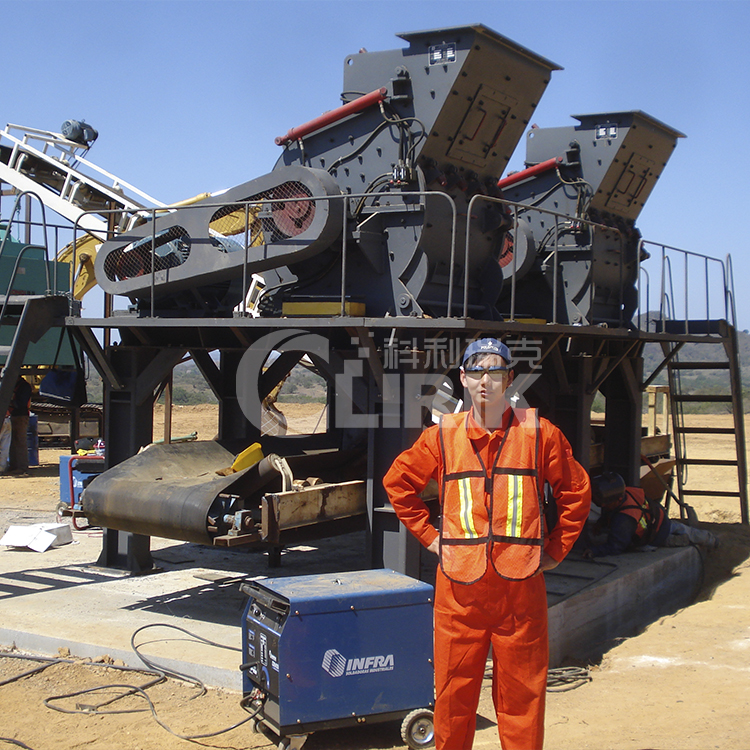 If you want to know more about this, you can click here to consult us.
Manufacturer profile of PC series European coarse powder grinding mill
SHANGHAI CLIRIK MACHINERY CO., LTD located in PUDONG New district of Shanghai china, as a pioneer enterprise, which is specializing in research, manufacture and sales of all kinds of grinding mill, all kinds of crushers from coarse grinding mill, fine grinding mill and ultra fine grinding mill, grinding mill related equipment, such as powder modifying machine, powder packing machine.powder conveying system, etc. We have devoted into grinding field for more than 30 years, we belive only focus can be professional.
Our company has already formed a full set of modern production line, equipped with intelligent, standardized testing and controlling laboratories, owned a professional team for R&D, production, sales and service.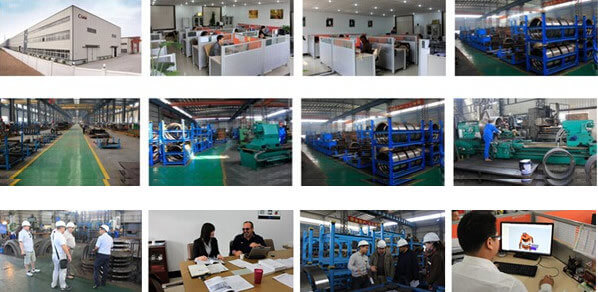 High quality of after-sales service symbolizes our brand and ability. We pursue not only good quality products, but also best after sales service. Your satisfaction is our final purpose.
Hot product Recommended