Grinding materials of grinding mill production line
Grinding materials of grinding mill production line:

The final particle size of the grinding mill production line is between 325-3000mesh, and capacity ranging from 0.4-8 ton/hour. By the way, the grinding materials include various stones, rocks, and other non flammable and explosive minerals with comprehensive strength not higher than 320 Mpa, such as Phosphate ore, pyrophyllite, kaolin, calcite, barite, marble, fluorite, talc, gypsum, dolomite, calcium carbonates, petroleum coke, carbon black, alumina, quartz, pigments, coals, feldspar, chromic oxide, clays, cements, up to more than 100 materials.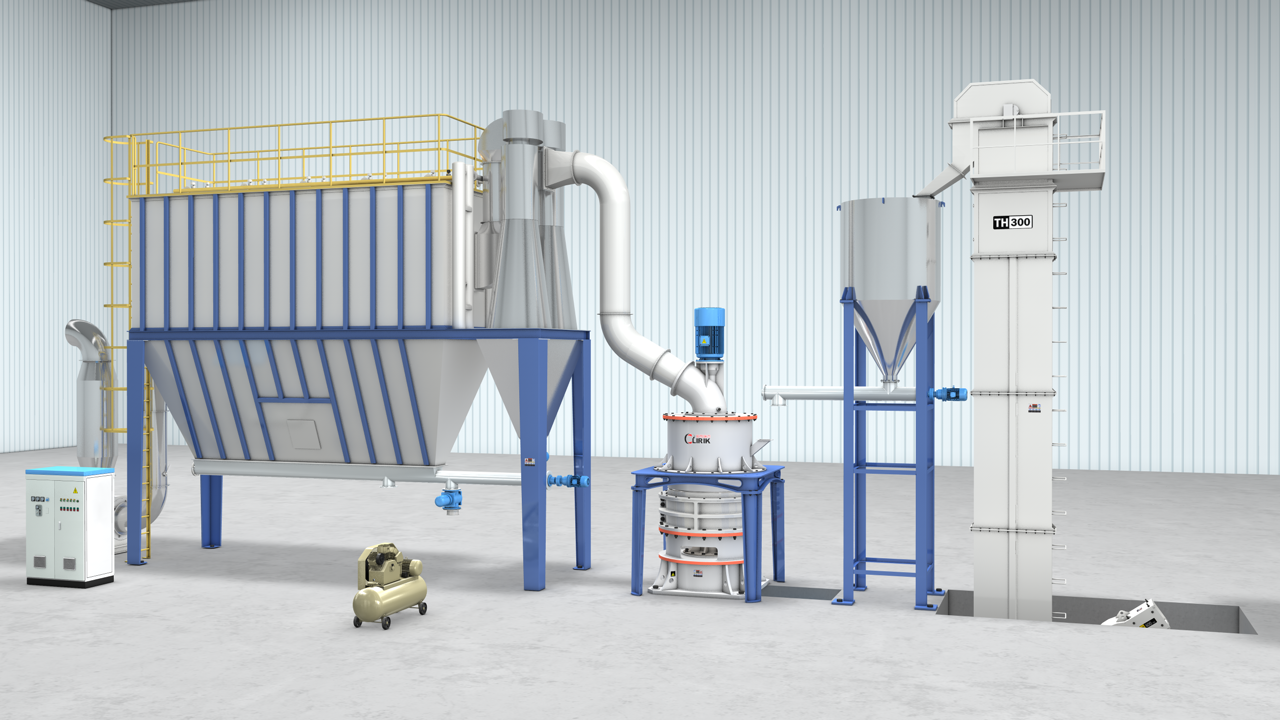 Components of Clirik grinding mill production line:

Clirik grinding mill production line is generally composed by main unit (or mainframe), classifier, powder collector, dust cleaner, blower, muffler, sound proof room, crusher (hammer crusher or jaw crusher upon the demand of the clients), bucket elevator, storage hopper, and vibrating feeder.

Operating principle of Clirik grinding mill production line:

After crushed by hammer crusher, the large materials become small ones and are sent to storage hopper by elevator, and then evenly sent to the upper distribution plate of the turnplate by vibrating feeder and sloping feeding pipe.

When the grinding mill is at work, all the grinding rollers are rolling in the ring, and the materials are driven to the edge of the turnplate by the centrifugal force and fall down into the grinding chambers where the materials are repeatedly pressed, crushed and grinded by the rollers.

The high-pressure air blower constantly inhales air within the grinding mill and, in turn, the airflow with crushed materials are brought to the classifier whose high-speed impeller will screen the airflow: the unqualified particle size will fall and return to the mill for being reground while the qualified particle size mixed with air will go into the cyclone powder collector. Most of the qualified powders will fall and exit from the discharging valve at the bottom; a small proportion of the fine powders, with airflow, moves to the dust cleaner, and clings to the surface of the filter bags. At the same time, the fine powders clinging to the surface fall down by the sudden vibration of the filter bags, which is caused by the instantly ejected high-pressure gas controlled by the pulse valve. The materials from the above two lots are sent by the conveyor at the bottom to get finished powders packed. In addition, filtered clean air will be emitted from the air outlet of muffler in the end.