What are the Illite Applications
Illite is nearly ten years to the development and utilization of non-metallic minerals, with potassium-rich, high-alumina, low iron and smooth, bright, delicate, heat and other excellent chemical and physical properties. Illite is able to wide apply is inseparable from the grinding mill, and after grinding, different whiteness, fineness and putty result different applications.
In the ceramic industry, illite higher aluminum content can improve product strength, high potassium levels can reduce the sintering temperature. Therefore, both as a water feature illite plasticity material but also as a binder of molten glass.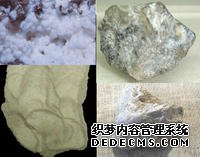 In the paper industry, the Queen of the fine stone, large surface area can improve the retention of the paper; whiteness, fine texture, lubrication, can improve the properties of the paper; tensile resistance, flexibility and abrasion resistance or, can enhance the durability of paper, water and oil absorption, transparency, covering power are modest, can increase the effect of printing and writing.
In plastics, rubber industry, with the Queen as a flake powder filler to enhance the role of both the incremental modification, high aspect ratio illite scales plastic tensile strength and flexural strength improved.
In the paint, printing ink industry, after adding Erie powder, can improve the coating dispersion, heat resistance, frost resistance, water resistance, improve job even brushing effect.
There are more applications of Illite, if customers want to engage illite processing industry, grinding mill is essential processing machinery. Shanghai Clirik Machinery is a professional grinding mill supplier, welcome customers come to our factory for testing the devices.