Ring Roller Grinding Mill Working Flow
A whole stone powder production line is not just need the
ring roller grinding mill
, it including
stone crusher, ring roller grinding mill, conveyor, elevator system, powder classifier, powder packing machine
and so on.
Stone Powder Making Steps in Ring Roller Grinding Mill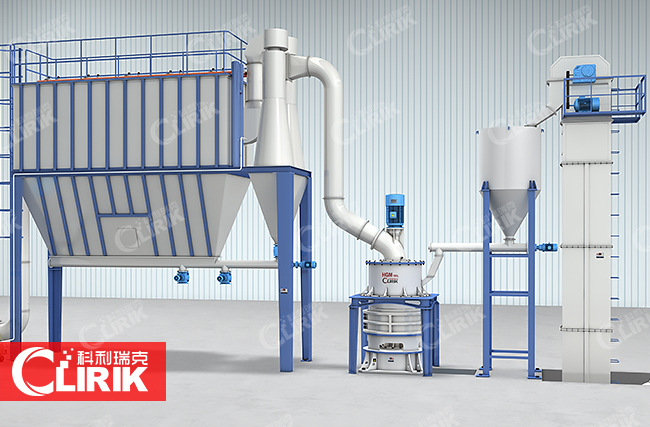 ♦ Crushing of raw materials
The bulk material is broken through the crusher to be able to enter the
ring roller grinding mill
(15mm-50mm).
♦ Grinding powder
After the crushing of the small pieces of material sent to the hopper through the elevator, and then through the feeder will be evenly distributed into the
ring roller grinding mill
grinding chamber for grinding.
♦ Classification
After grinding, the material is classified by the grading system, and the unqualified powder is returned to the host to be grind again after classification.
♦ Product collection
The powder meets the requirement of fineness and enters into the dust collector with the gas flowing through the pipeline, the finished powder is transported to the finished product bin through the discharge port, and then packaged with a powder tank truck or an automatic packer.
Ring Roller Grinding Mill Working Principle
The
ring roller grinding mill
adopts the principle of impact, extrusion and grinding to crush the material, and a large clearance between the grinding ring and the pin shaft is arranged on the grinding ring bracket. when the material passes through the clearance between the grinding ring and the grinding ring, the material is impacted, extruded, grind and crushed by the grinding ring. The crushed materials under the action of gravity to the feed tray and thrown into the room grading classification by air, qualified fine powder by grading round into the collection system, coarse material is thrown to the split ring wall, back into the crushing chamber for re-grinding.When the double layer grinding machine works, the material is broken again by the gap between the second layers of grinding ring.