Diatomite Powder Raymond Mill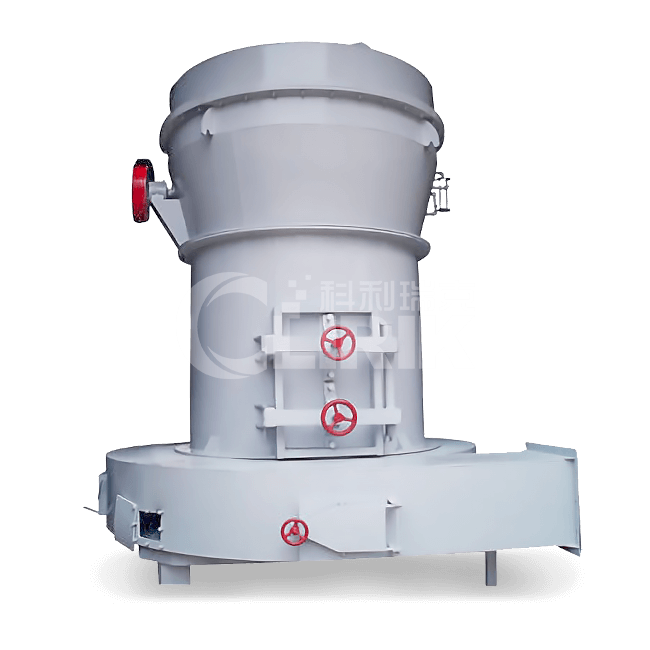 Diatomite Powder Raymond Mill
Finished Size : 80-325 mesh
Power: 18.5-132 kw
Processing Ability: 1-30t/h
Max feeding Size: 20 mm
MQQ : 1 Set
Price: 9999-99999 $
Range of application: Diatomite, Calcium Carbonate, Limestone, Kaolin, Gypsum, Bentonite, Dolomite…
Product ApplicationOf Diatomite Powder Raymond Mill
Diatomite powder Raymond mill is suitable for grinding diatomite, limestone, calcite, talc, dolomite, bauxite, marble, feldspar, barite, phosphate rock, coal mine, clay, kaolin, bentonite and other MoHs hardness below 7, humidity within 6% of a variety of non-flammable and explosive materials.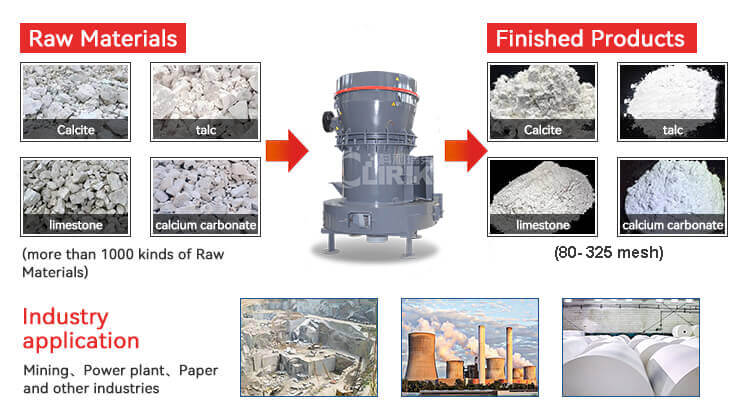 Working Principle Of Diatomite Powder Raymond Mill
Diatomite powder Raymond mill is mainly composed of main unit, analyzer, fan, discharging cyclone separator, powder cyclone separator and air duct. Among them, the main unit consists of frame, blow shell, shovel, grinding roller and grinding ring.
1. The lump material will be conveyed into the storage bin by the bucket elevator after it is crushed into the required particle size by the jaw crusher.
2. Then electro vibrating feeder will uniformly transfer the material into the grinding chamber of the host machine.
3. The material is up thrown and fed into the space between the grinding roller and grinding ring in the process of synchronous rotation of the shovel and the grinding roller, and forms a cushion material layer.
4. The material on this layer is grinded between the grinding roller and the grinding ring. Thus, the purpose of powder production is achieved.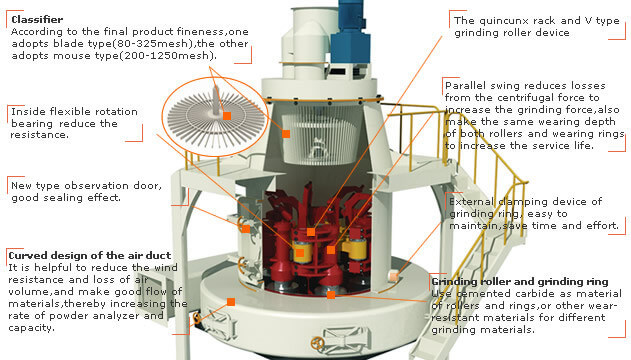 5. The grinded powder will be carried by the airflow of the fan into the analyzer for classification.
6. The powder with the qualified fineness will enter the large cyclone collector, together with the airflow through the pipes, for classification, and then, will be discharged by the discharging device, as the finished product.
7. The airflow is sucked into the air blower through the air return pipe on the upper part of the large cyclone collector.
8. The unqualified powder will be thrown to the external wall by the airflow and separated from the airflow.
9. The coarse powder will fall into the grinding chamber for regrinding due to its own gravity.
10. The whole airflow system is closed and cyclic, and it flows under the positive and negative pressure circularly.
Product Advantage Of Diatomite Powder Raymond Mill

High wear resistance
The ring and roller are forged by special material with high utilization,the lifetime can reach 2-5 years for grinding calcite.

Simple and convenient
Electrical system centralized control, workshop basically realize unmanned operation, and easy maintenance.

High safety and reliability
As no rolling bearings or screws in grinding cavity, there are no problems caused by bolts shedding or rapid wear of bearings and seal components.

Green environmental protection
No dust leakage. Clean environment, in line with international environmental protection requirements.
Product Parameter Of Diatomite Powder Raymond Mill
Model
Roller
Ring
Feeding
Size(mm)
Finished
Size(mm)
Mill System
Power(KW)
Capacity
(t/h)
Overall
Dimension (mm)
Quantity
(piece)
Diameter
(mm)
Height
(mm)
Inner
Diameter
(mm)
Height
(mm)
YGM7815
3
260
150
780
150
15
0.613-0.033
35.7
1.0-3.0
4300*3500*5100
YGM9517
4
310
170
950
170
25
0.613-0.033
72.65
2.1-5.6
7100*5900*7900
YGM1280
3
370
240
1170
240
20
0.613-0.033
145.15
4.5-12.0
9300*5600*8200
YGM1300
4
410
280
1270
280
20
0.613-0.033
202.15
6.5-16.0
9100*8200*8400
YGM1620
4
450
300
1500
300
20
0.613-0.033
322.2
8.0-20.0
12500*5700*10500
YGM1720
4
510
300
1720
300
35
0.613-0.033
450
10.5-28.0
11550*9500*1050
What Is Diatomite And What Does It Do?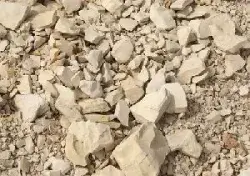 Diatomite
The chemical composition of diatomite is mainly amorphous SiO2, containing a small amount of Fe2O3, MgO, Al2O3, K2O and organic impurities.
Diatomite is usually white, off-white, light yellow or light gray, and the bulk density is 0.34~0.65g/cm3.  Melting point 1650 ℃ ~ 1750 ℃;   specific surface area 19~65cm2/ g;   pore volume 0.45 ~ 0.98 cm/g;   water absorption rate is 2 to 4 times its own volume.  High chemical stability, insoluble in hydrochloric acid, easily soluble in alkali, physical properties with soft, sound insulation, wear resistance, heat resistance, water absorption and many other excellent performance.
Other Related Diatomite Powder Grinding Equipment
In addition to diatomite powder YGM series diatomite powder Raymond mill, we have a lot of other carbon black related equipment for you to choose from.
Manufacturer Of Diatomite Powder Raymond Mill
Shanghai Clirik Machinery Co., Ltd, located in Pudong New Area of Shanghai, China, is a large professional manufacturer with import & export rights specializing in research, manufacture and sales of crushing machinery, mining equipment, and grinding machines.
Such as micro powder grinding equipment, ultrafine grinding equipment, stone grinding equipment, mineral grinding machine, hammer crushers, jaw crushers and associated accessories. The grinding equipments, grinding machines and crushers are widely applied in metallurgy, hydraulic engineering, mining, chemical, construction, coal, refractory, ceramic and other industries.
If you would like more information, please click here and leave us a message, and our sales manager will contact you later.