European Coarse Powder Grinding Mill
Product Overview Of European Coarse Powder Grinding Mill
European coarse powder grinding mill is engaging in crushing various rocks and stones with comprehensive strength not higher than 320 MPA into coarse powder and small particles.It is widely used in metallurgy, mining, chemical, cement, coal, sand-making, construction, refractory materials, and ceramic industries.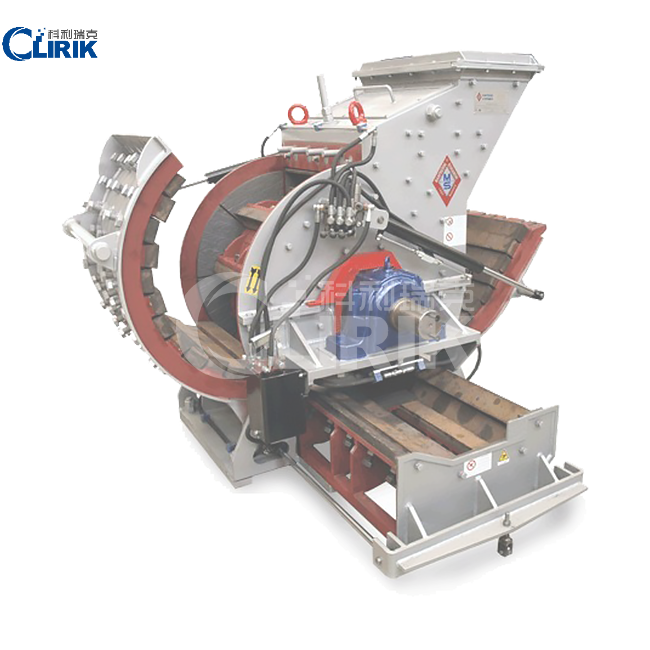 European Coarse Powder Grinding Mill
Processing ability: 3-60 t/h
Fineness: 0-25 mm
Max feeding size: 400mm
Range of application: Calcium Carbonte, Limestone, Gypsum, Kaolin, Dolomite, Barite, Flourite…
Working Principle Of European Coarse Powder Grinding Mill
European coarse powder grinding mill mainly consists of frame, rotor, support iron, and grate bars. The frame is divided into two parts: the upper part and the lower part, which are welded by steel plates after being cut.
Liners made of high manganese steels within the frame can be replaced after being worn out. The rotors consist of turn plates, pin shafts, and hammers which are grouped regularly in the main shaft.
The main unit drives the main shaft through the motor and triangle belts, which in turn, rotates the rollers.
Large materials entering the crusher through the feed inlet are firstly crushed by the high-speed hammers and then thrown fiercely to the support iron for further crushing.
Qualified materials crushed will be screened out and exit from the gap of the great bars, while the unqualified will be left in the crushing cavity to be further hammered and ground until reach the standard size.
The size of the final product can be adjusted by changing the grate bars. The gap between the rotors and the grate bars can also be adjusted according to different requirements. To avoid the plugging of the crusher, the proportion of water for the crushing materials is no more than 20%.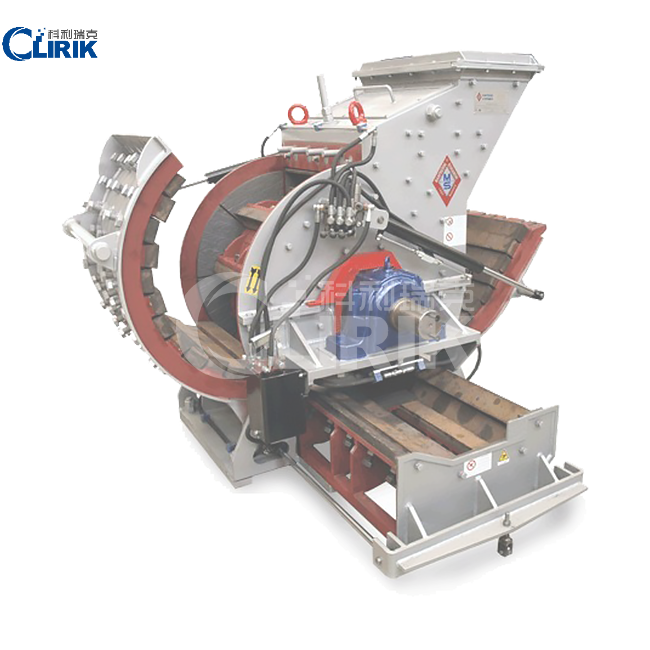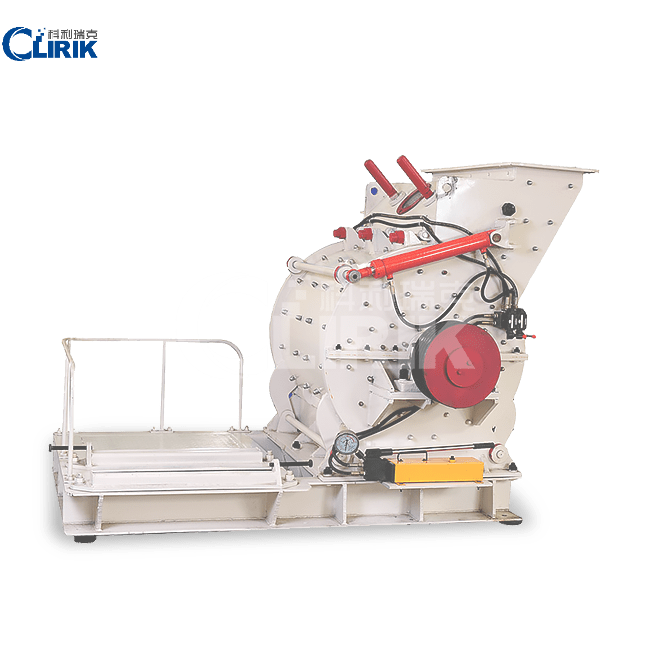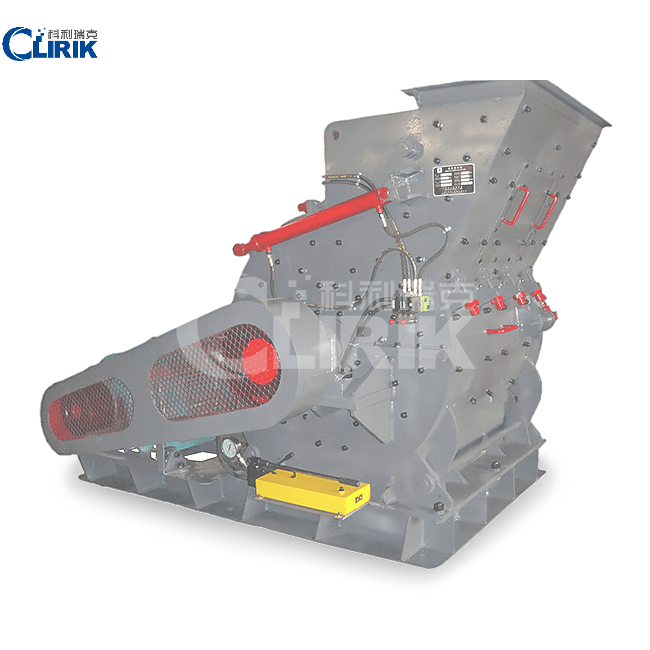 Product Advantage Of European Coarse Powder Grinding Mill
1. High mill efficiency and low running cost.
The European coarse powder grinding mill adopts the principle of material layer grinding, grinding materials, low energy consumption, grinding system power consumption is 20 ~ 30% lower than the ball mill, and with the increase of raw material moisture, power saving effect is more significant.
2. The abrasive body has little wear and a high utilization rate.
Because there is no direct contact between metals in the operation of European coarse powder grinding mill, one machine is multi-purpose: the machine and supporting equipment to form a closed-circuit production line can produce products of various sizes.
Low failure rate: plate hammer structure is more stable and durable than sealed Raymond mill.
3. Low construction and investment costs.
European coarse powder grinding mill integrates fine grinding, drying, grinding, powder selection and conveying. It does not need to install other equipment such as drying, powder selection and lifting. Dust gas from grinding can be directly collected by high-concentration bag dust collector or electric dust collector. Therefore, the process of coarse flour mill is simple, occupies an area and occupies a small space, which makes the construction cost low.
4. Equipment environmental protection, low noise, less dust, clean operating environment
The grinding roller and the mill are not directly in contact with each other in the work of the European version of coarse flour mill. There is no metal impact sound of the ball colliding with each other and the steel ball colliding with the lining plate in the ball mill. Therefore, the noise is small, which is 20 ~ 25 decibels lower than the ball mill. In addition, the coarse flour mill adopts a fully sealed system. The system is operated under negative pressure, no dust, a clean environment.
5. The drying capacity of the equipment is large, and the grinding materials are wide.
European coarse powder grinding mill adopts hot air conveying material, which can control the air inlet temperature when grinding material with large moisture, so that the product can reach the final moisture required. It can dry materials with moisture up to 15% in the coarse flour mill, and has a wide application range. Even the drying ball mill can only dry the material with 3-4% moisture.
6. Easy and reliable operation, easy operation and maintenance.
Equipped with a rare lubrication station, the roller bearings are lubricated by dilute oil concentrated circulation to ensure the bearings work under the conditions of low temperature and pure oil quality, prolong the service life, and make the equipment running system run continuously and reliably. Equipped with an automatic control device, it can realize remote control, easy to operate. It is equipped with a limit mechanism to prevent direct contact between roller sleeve and grinding plate liner, to avoid friction and collision between metals and destructive violent vibration, increasing the safety.
7. The product quality is stable, the particle gradation is uniform.
The material stays in the European coarse powder grinding mill for only 2 ~ 3 minutes, while it takes 15 ~ 20 minutes in the ball mill. Therefore, the chemical composition and fineness of coarse flour mill products can be determined and corrected quickly, and the quality is stable.
Product Parameter Of European Coarse Powder Grinding Mill
| | | | |
| --- | --- | --- | --- |
| Type | PC400x300 | PC600x400 | PC800x600 |
| Rotor Diameter /mm | 400 | 600 | 800 |
| Rotor Width/ mm | 300 | 400 | 600 |
| Rotor Speed/ r/min | 1100 | 1000 | 900 |
| Max Feeding Size/mm | <100 | <220 | <350 |
| Finished particle size /mm | 0-10 | 0-20 | 0-22 |
| Capacity / t/h | 3-8 | 8-15 | 15-45 |
| Power /kw | 11 | 18.5-22 | 45 |
| Hammer Number /pieces | 12-16 | 12-20 | 20-28 |
| Dimension L*W*H/mm | 855*795*860 | 1150*1095*1230 | 2360*1490*1415 |
Manufacturer Introduction Of European Coarse Powder Grinding Mill
Our Factory
Shanghai Clirik Machinery Co., Ltd. is located in Pudong New District, Shanghai, China, which is specialing in manufacturing grinding mills, Raymond mills, crushers and other associate accessories with decades experience. We have strong and professional technical and sale team. Customers' satisfaction is our final and forever pursuing.
Our Services
Purchase our equipment can enjoy the following services.
Help customers to select equipment.
Free arrangement of engineers to the site for actual survey and plan design.
Strict implementation of quality standards, quality assurance of ex-factory products.
Free logistics and transportation information, more choices for logistics and transportation.
Strictly implement the standard process of preparation and delivery, timely and accurate stock preparation, and rapid delivery.
Free arrangements for engineers to guide the basic production of equipment.
Provide free technical guidance for equipment installation and commission.
The free on-site one-to-one operation, repair, maintenance, and other training.
Professional after-sales service team, 24 hours response to customer needs.
Clirik Hot Product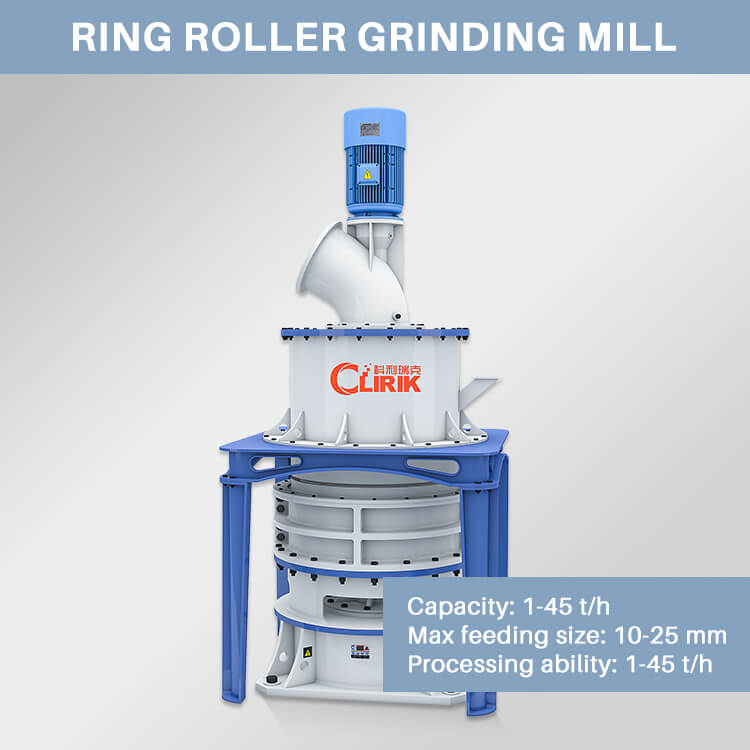 FAQ

More details we needed for sending you more suitable quotation,
 
1. what kind of raw material do you want to process? 
2. what is the capacity per hour do you need?
3. what is the raw material input size? 
4. what is the finished size you required?
 
Any inquiries of our European Coarse Powder Grinding Mill will be highly regard and we will give you the best quotation ASAP. Your satisfaction is our final ann forever pursuit. 

Please fill in your need products and your message and do not forget email and/or phone if you like to be contacted.

We are looking forward to your inquiries!